well after about of year of debating and collecting some parts I have finally started my solid axle swap on my 89 gl wagon... when I picked it up, it looked a little something like this, thanks to brad...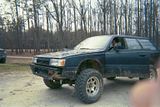 As of now the rear is completely torn apart, did some cosmetic work to the quarter panel and the solid axle is rolled under getting ready to be fitted...
While this project is far from finished and I still have many unanswered questions, I am very excited that its becoming more of a reality...
So what I have so far are:
- 5.29 yota axles; weld front and lock right rear
- 3" Rancho Springs
- homade revolver type shackles for rear
- rancho 5000 shocks
- 35" Pro Comp Xterrains
- Sammy Tcase
There are plenty of other things I plan on adding including an EJ22 swap and some crawler gears for the tcase, however my main goal is to get everythign fab'd up and rolling around...
Figured I would just share with the community and get some feedback/advice... Maybe if I find others are interested I will be more motivated to work on it as I have been is a lazy mood as of late, lol...
-caleb