UPDATE
I guess I broke the rules with my acronym and suggestive mention of 8" hailstones and your mothers. Basically, if you want to follow this build, check this
thread
. If I can't make wiener jokes, I'm not using your forum, simple as that. Delete the thread, ban me, send me a PM about being immature, whatever. let the :Flame:ing begin. PAAAAAAAYCE.
Sorry about that. My biggest problems in life come from trying too hard to be funny. Hi. I'm Mike. I am a professional storm chaser, and I drive a subaru. Specifically, she's a worn out 05 2.5rs wagon, totaled by softball hail and a half-blind elderly woman with no insurance. I would love to tell you more about the wagon. However, to truly understand this, you must look into the past...
Severe Hail Intercept Team
It all started back in 2008, year of our lord. We came up with the acronym after a few hours of smoking drugs and killing cops on GTA San Andreas. It was just a joke at first, but then we realized we had seen over 50 tornadoes, and only seen baseball hail 2 or 3 times. Finding the big hail on purpose is harder than finding the tornado. That, and we missed quite a few tubes because we didn't want to bust out any windows. Sometimes you have to punch through the hail to get to the sweetspot...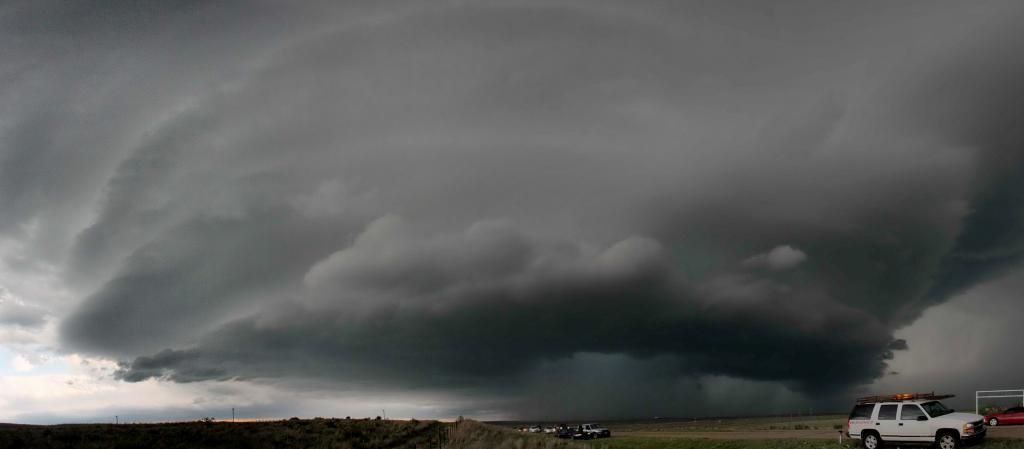 So we decided to use the acronym and build a roof-rack that fully protected the windshield, and even a little protection on the sides and rear... The Tahoe became the S.H.I.T. A lot of the chaser community thought it was fun, we even had a cameo on the Discovery Channel show...
Severe Hail Intercept Team 2.0
I just kind of fell into this whole Subaru thing. I know a skateboarder dude in Tulsa with an old lifted wagon, I've always been intrigued by rally stuff, and one day I just decided to check it out. Some googling and forum surfing turned into craigslist surfing. That night I found a 94 lego wagon with low miles for a good price. So I bought the wagon with every intention of bedlining the whole thing, building a huge hail rack, and doing the Forester strut/spring lift. However, storm season snuck up on me, and I chose to chase in my granny wagon with no hail cage and no lift. She did very well, averaging 27mpg, 28k miles(mostly chasing) since January, assisting me with the 30 tornadoes in 2011. Here are some highlights: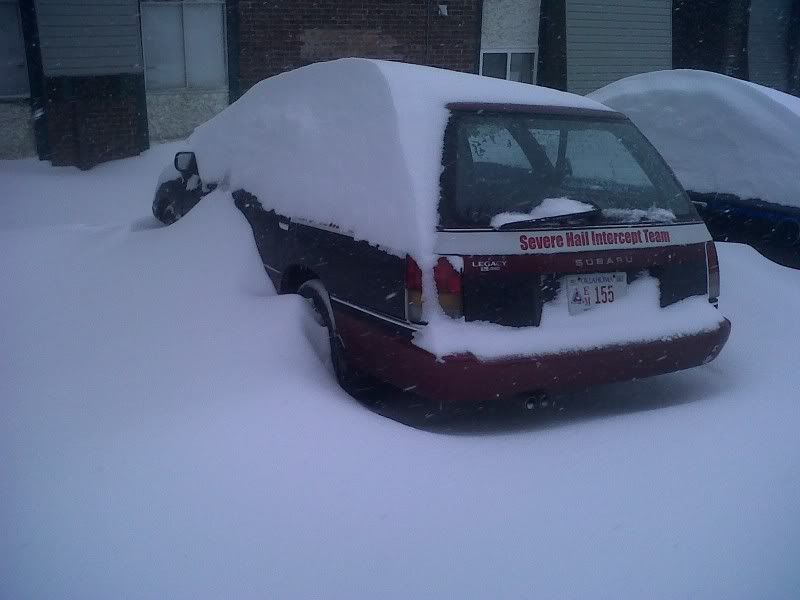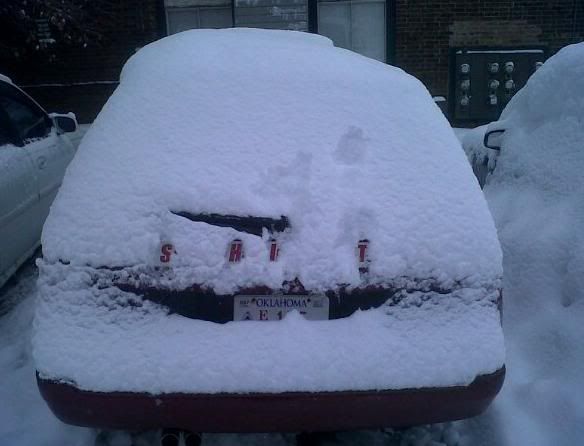 one of the early February blizzards in Tulsa

INCREDIBLE supercell structure 4-22-2011 Gainesville, TX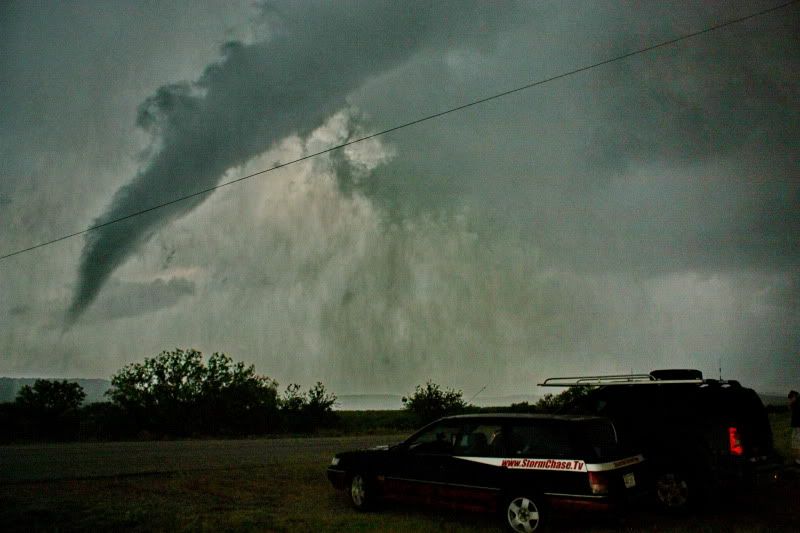 awesome tube near Abilene, TX 4-24-2011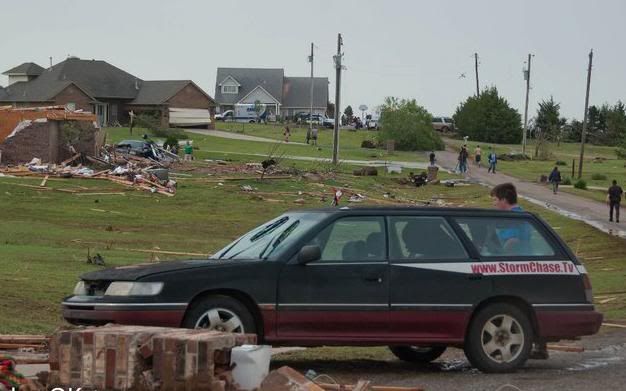 Piedmont, OK EF5, Falcon Lake addition. This was a rough day for me. Watched the mile wide beast cross Waterloo a couple miles in front of me. First on scene, a minute behind the tornado. Being there and helping before fire/ems is quite a sobering experience. This day I found a 2 year old baby boy clinging to life after being tossed 200ft from his home with his 3 year old brother and 4 year old sister. That's a story for another day...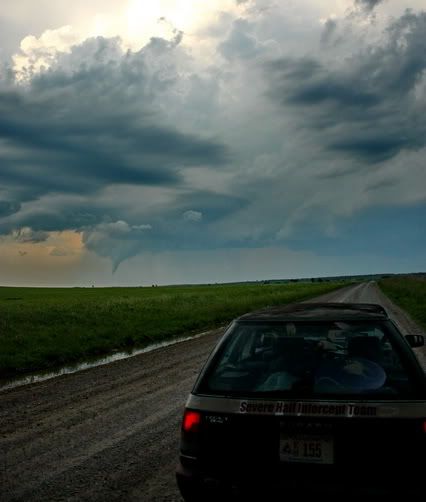 Rare Osage County, OK tube in the hills. 7-18-2011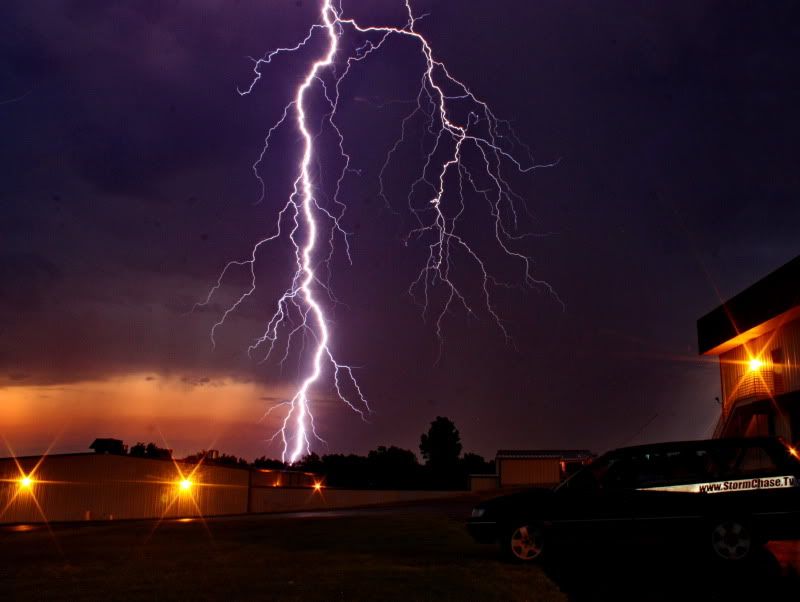 Surprise sunset lightning June 2011
Severe Hail Intercept Team 2.1
The old leggy wagon treated me well, and took the beating like a champ. With the extra weight in the back, she didn't handle the slippery mud roads too well. Also may have been something wrong with the awd. Anyways, I ended up swapping the tranny/rear diff. into a 97 impreza L sedan. I took her on a few chases, and she handled the mud and abuse like a champion. Here are some highlights:

Nice supercell structure, NW OK September 17, 2011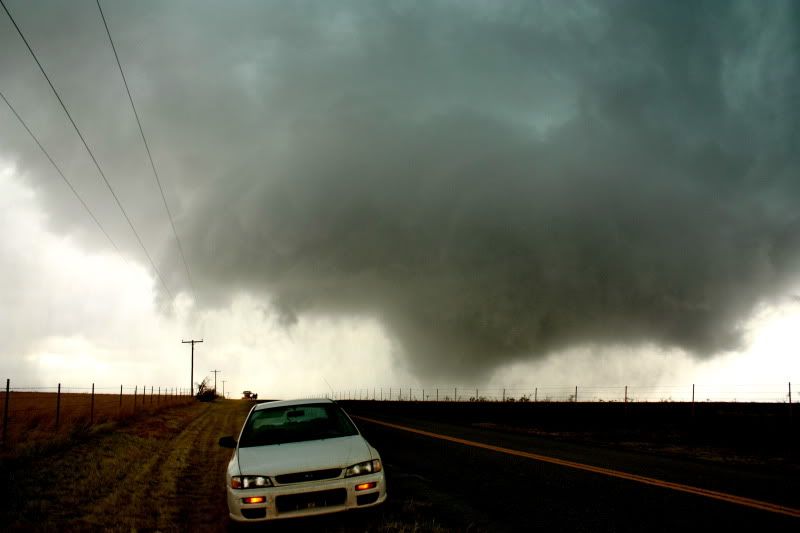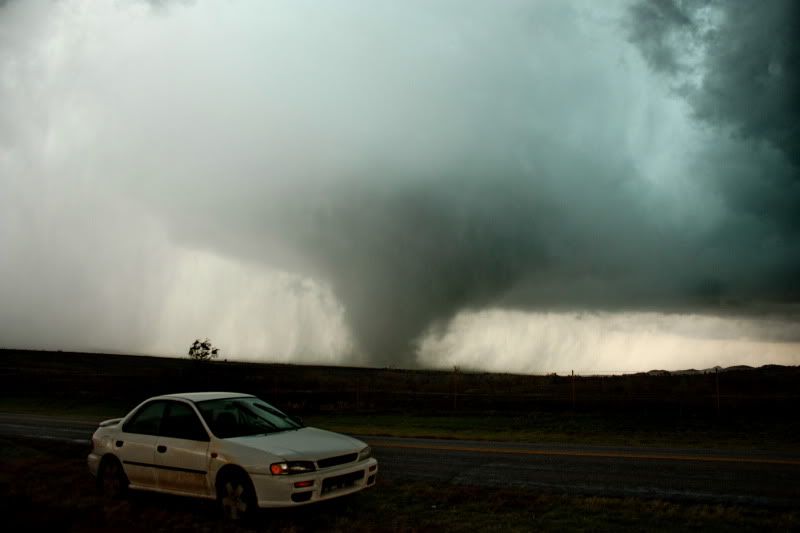 November 7, 2011 AMAZING tornadoes near Snyder, OK
http://youtu.be/ivt0Kzb4Bk4
Severe Hail Intercept Team 2.2
I started a new job back in March. As I pulled in, I noticed a gorgeous silver 05 2.5rs wagon, completely smashed by hail. I loved it so much I shot a few pictures. I got inside and found out it belonged to a friend of mine, and was damaged by the May 16, 2010 NW OKC prolific hail event, which I chased. I begged him to sell me the car, and he said he would once he gets financially stable enough to buy a new truck... November 10th I got the email I had been waiting for all year. He was ready to sell her.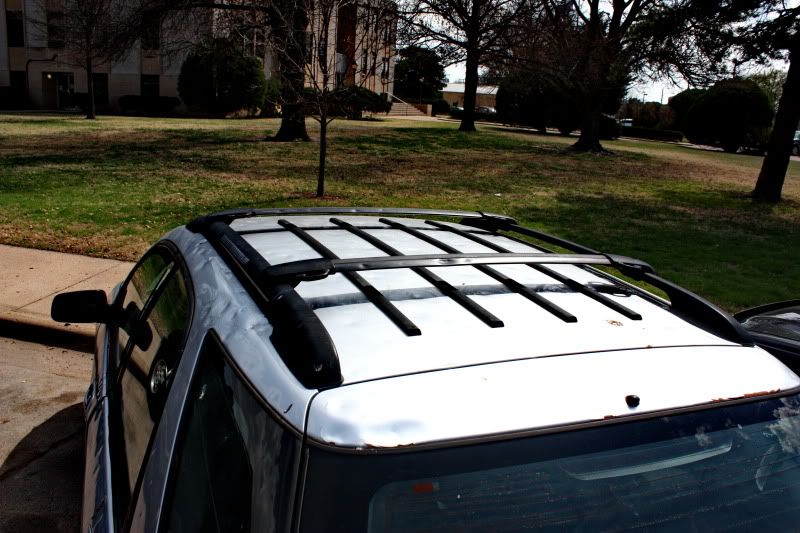 baseballs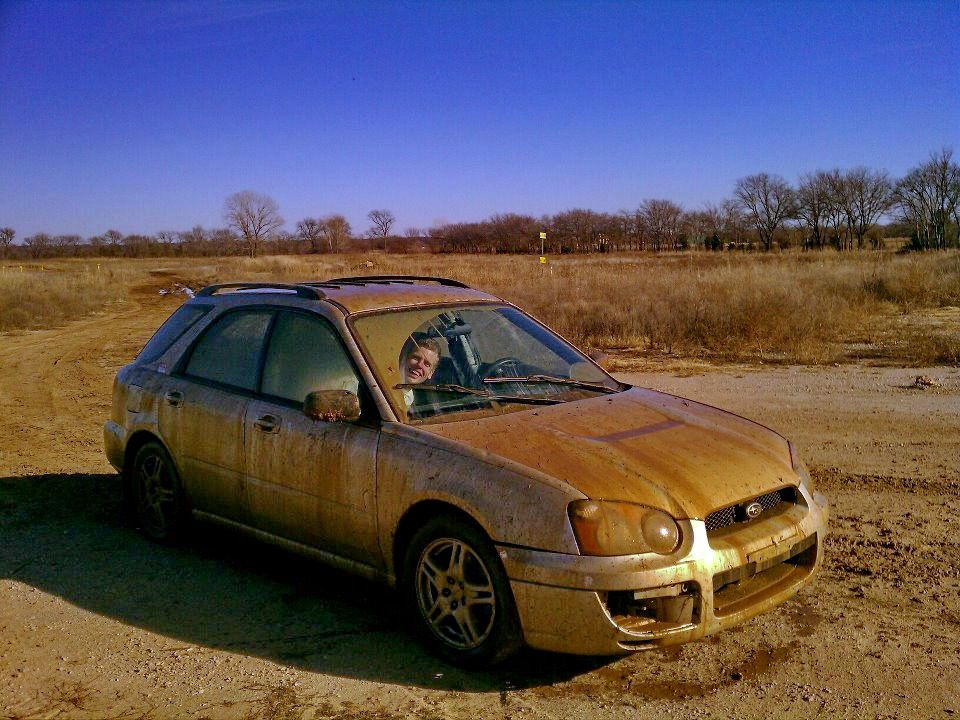 mud test passed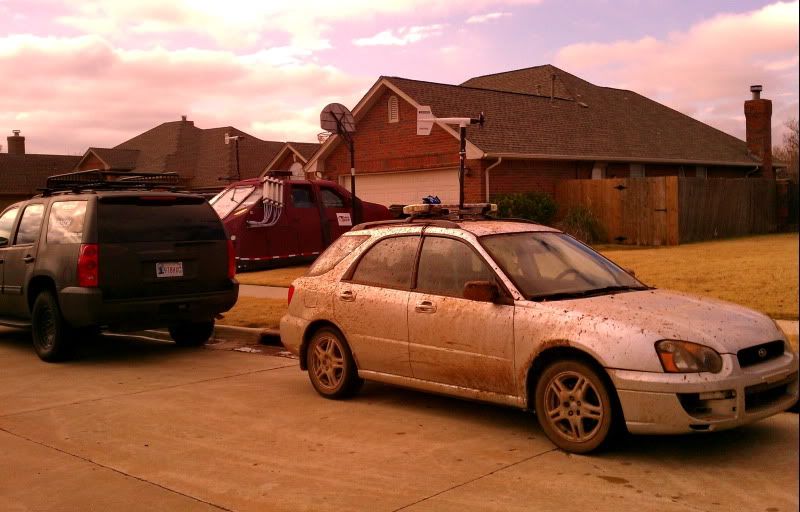 lightbarz
I have some big plans for the 05 rs wagon. Always use protection. My goal is to make the wagon capable of safely taking world record hail-stones(8"). I also decided a simple exo-cage would be neat-o. Not so much to protect us from rolling, but for falling trees/power poles. I started off wanting to do a sturdy tube bumper front and back, and a roof-rack that protects the windshield from the big hail. We were in lower Manhattan for Hurricane Sandy, and it's a miracle none of the trees fell onto our rental car. Every time there is a fairly significant wind event anywhere that isn't the Great Plains, someone dies in a car from a falling tree. I've also had many near-miss run-ins with downed power poles at night. It would add some peace-of-mind, as well as look pretty sick. I like attention, and a lifted impreza wagon with an exo-cage and a weather station on the roof would do the trick.
phase 1:
install all red panels(I want my own hail dents)
forester suspension lift
tires
front tube bumper
phase 2:
rear tube bumper
roof rack w/pneumatic windshield guard
polycarbonate door glass.
simple exo-cage
white Line X the entire body?
Phase 1 starts this weekend. I found an 04 forester today at the pull-it-yourself-@sshole salvage yard. I'm going to wrestle the struts and trailing arm brackets out tomorrow, get new front axles, and git-r-dun. I pretty much never follow through with plans. Don't be surprised if I don't update this thread hahaha.....hah....
Edited by StormChaseTV, 07 December 2012 - 06:32 PM.
Do not bypass swear filters!