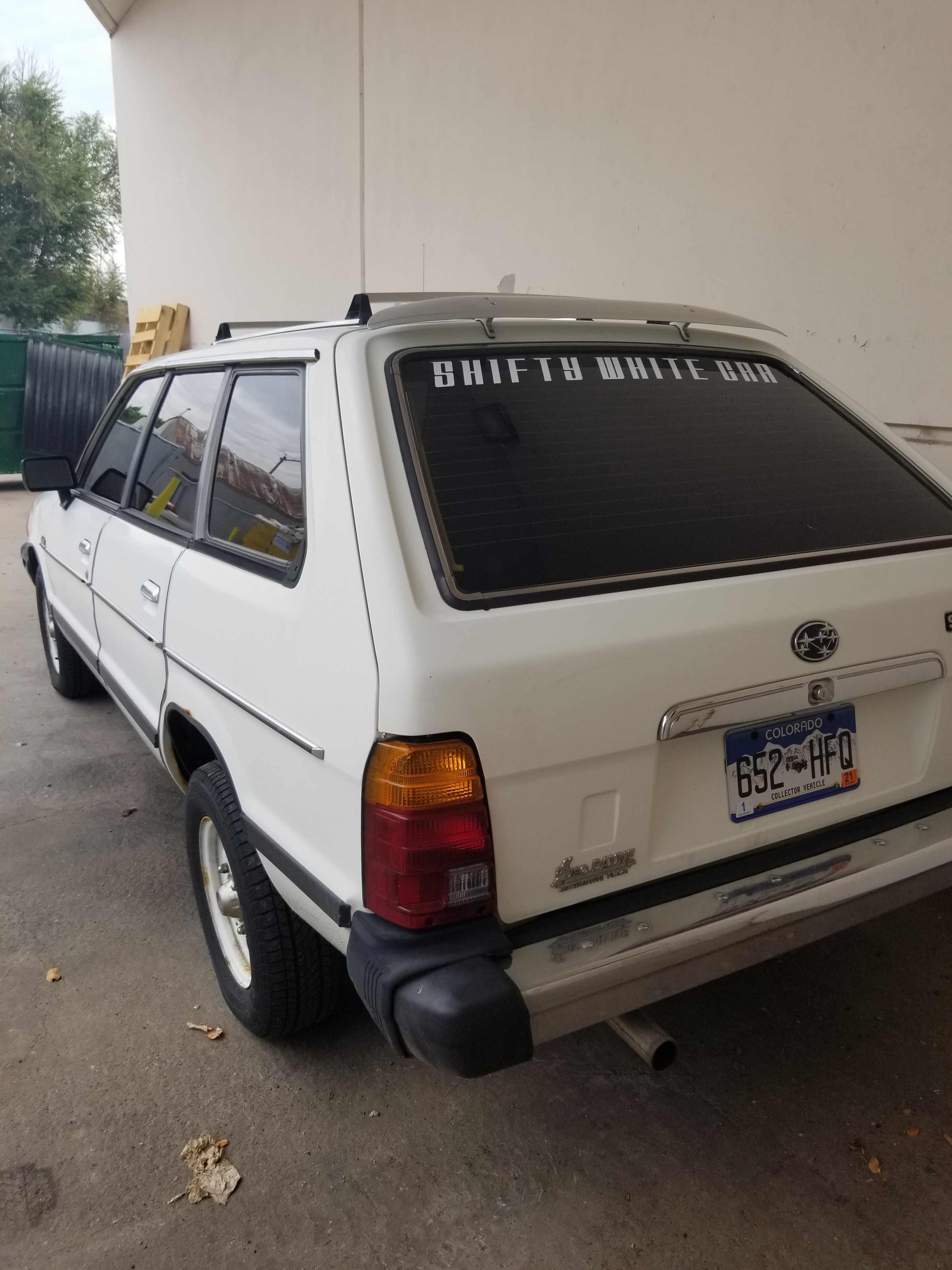 Content count

48

Joined

Last visited

Days Won

1
Community Reputation
19
Good
About Jmpjose
Rank

Advanced Member


Birthday

01/08/1987
Profile Information
Gender
Location
Occupation
Referral
Biography

I have one project 1984 Subaru DL FWD. love my subie and need help from other subaru lovers on how to get ahold of old parts and share knowledge about the classic Subaru.

Vehicles
Have the same problem with my switch. Exact same color and set up. I have to play with button until it stays on. Will have to try the coin trick or take it apart and clean it.

And yes is the front main seal needing replacement.

Try ebay. Thats were i found mine.

I got my weber from ebay. Had mine istalled for a few years now no problems good little carbs.

Glad i can shed some light on this topic. Good luck.

Ok so i just went out adjusted my carb and got car running again. I removed the filter from weber and push on the gas. The butterflies would fully open. I wnet and started messing with the electrick choke adjusted and was able to get the butterflies to a closing point. I did this while engine was stone cold. The car started right up. I then let the car run for about 10 minutes so it can warm up. When engine was warm and butterflies were fully ooen i shut off engine so i can then adjust the 1 air screw my weber has. I firt bottomed out the screw and came back 2 1/2 turns. Them i restarted engine. From there you back up screw and listen closely to the idle and turn screw until you get your maximum idle. When air screw was adjusted i the adjusted the idle control screw and brought my idle rpms down a bit. Now i will let the engine get stone cold again and see of my adjustment worked. I will bring an update soon.

My 84 had been doing the same lately too. I have a weber on my EA81 and my guess mine needs a cleaning and possibly an adjustment.

Cheap Treasure for $200.. Furthest ive ever towed a project suby was from N Utah to Denver CO. Thanks for sharing.

Hello, Here in Colorado i have my 84 DL with classic plates. I cant drive my car more than 4500 miles a year witch i dont anyway. I paid $80 for 5 year tags. And next time i have to renew my tags i will not have to do an emissions test on it since name on registration will not change. Basically i can shop up my engine and exhaust and not worry about passing emissions. Hope this helps.

Thanks i never taken my shify to any car meet i will have to consider it. I did go to the Aurora junkyard but there was nothing of value i seen on that 69. Its been there for a while many parts were missing.

You can easily find a donut/spare at a junkyard. Just pop the hoods and walaa.

Heads up! I just seen a 1986 L line subaru at the Pull and Pay in Auroras website. i will try to go scope it out tomorrow. its only been there 1 day. Hopefully theres tons of good parts.

Sparkyboy.. i was there last week and i wanted to take the wheels. I did take one off but when i seen the dent on the inside if the rim i decided to leave them alone.

Nice ride. Hope you get it back soon.

Looks like tail lamps are gone. I can possibly get you the rear view mirror.