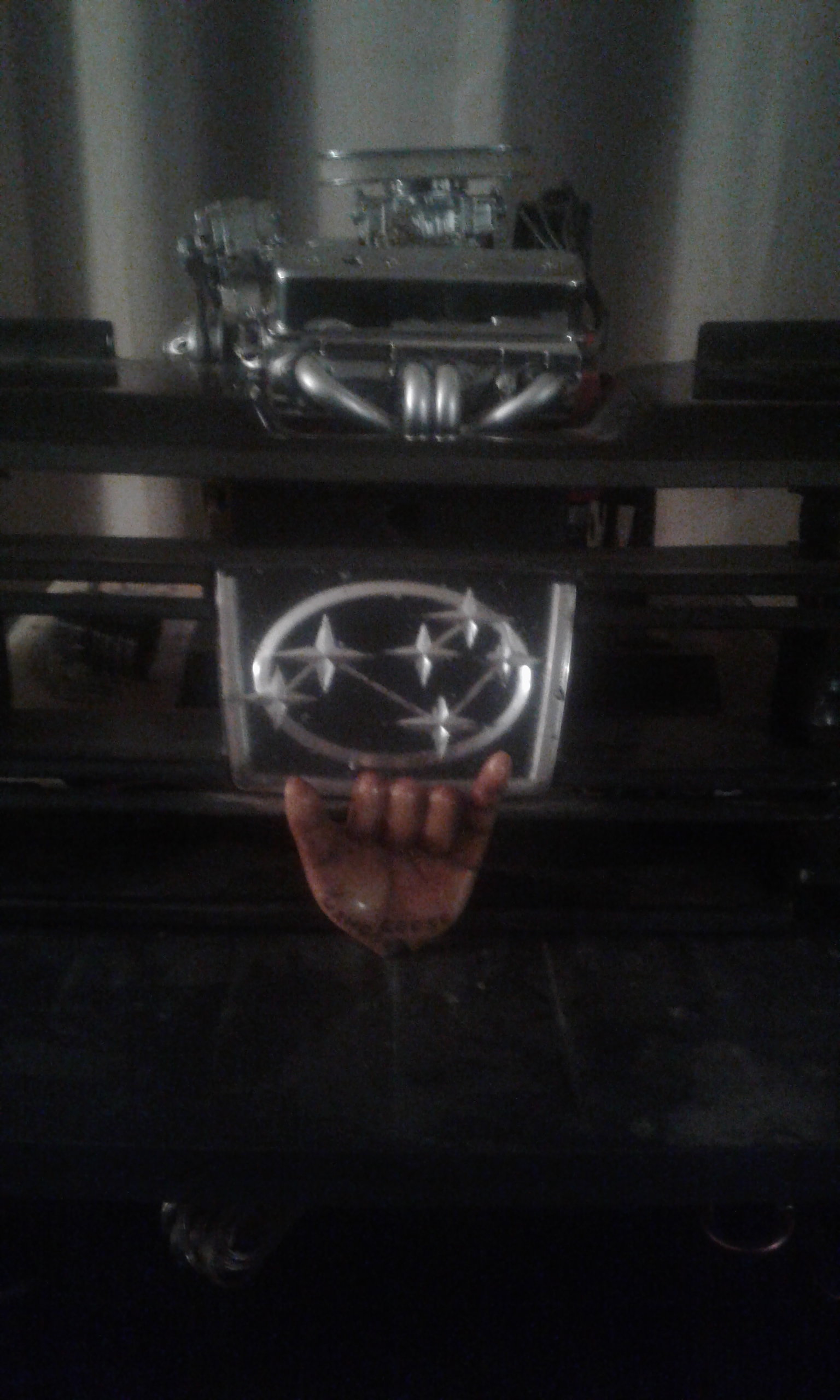 Content count

380

Joined

Last visited

Days Won

4
Community Reputation
80
Excellent
About sparkyboy
Rank

Subaru Fanatic!


Birthday

09/15/1984
Profile Information
Gender
Location
Referral
Biography

My favorite Subaru project is my 1986 GL that is currently receiving a 1995 ej22

Vehicles

1986 gl, 1992 legacy, 1999 outback
Oh that's quite alright, I have had some rather epic thread jacks here in the past! Fun stuff I have never seen any of those sport models

I redrilled the flywheel myself. It took a couple of hours and $20 in nice bits, but just use the ej flywheel as a template and elongate the holes into an oval shape! Sjrlifts adapter plate is worth every penny. Have fun! Your brats gonna smash now!

I can only speak for the 86 HVAC system, which is vacuum actuated... but I know which wires to pull. The blend door is on the drivers side right under the stereo console. I have a Chilton manual for that year, you need me to take a look?

Ok, i put the part number into the Subaru website, its for the emblem and shows both styles of grilles. It also mentions an alpine sport model. The jdm first gen leggo had the clear turn signal lenses, right? This pic is from Wikipedia

I found a part number on the back of the emblem, but nothing comes up! I'll find that pic of the black one, it looked like a media or brochure pic.. Ive seen the three bar one, that one is pretty dope too!

I have never seen this diamond pattern. I found this at a junkyard on a full time 4wd legacy wagon But searching google, I have only seen this one in black, not on the ss or touring wagon, even jdm Anyone know? It's cool as hell!

This is why i pumped gas back through the feed line.

Do carby subes have in tank filter (sock)? I am only aware of the in line filter in front of the tank. My camaro sucked the sock into the fuel line and luckily had a gas can and a 32 oz Gatorade bottle. I pumped gas back through the line to unclog her later. If you take the gas cap off, compressed air should have you freed up. Should be an easy fix, happy wrenching!

Hooray for air shocks! Wow man solid work! That's elbow deep with the elbow grease! To answer your question, no unfortunately ghost is still languishing at my parents but I'll get you those pics of the inside! I need to see her and she is a perfect distance to walk my dog on this beautiful Colorado day! She's coming out soon, after about 9 months, poor girl! She's with the family project, a beautiful 53 bel air...been back there 17 years!! It makes me mad I've been ready to restore her, she runs and drives! my dad is retiring soon and my bro is at a good place with his projects so what's up? @Giles would you mind getting a close up pic of your trunk lid? I am curious if i have to slightly flatten the holes for the luggage bars...would you be interested in those? Where is your spoiler? If you 3d print your front emblem, maybe I can try my hand at fiberglass molding my spoiler for you! I hope its a moot point cause you have the factory one! Cheers mate keep up the good work! 53 Chevrolet bel air "Belle" All original 235 inline six, and powerglide trans (2 speed auto) She did not come with the optional 12 volt electrical system or seat belts!

@el_freddo You posted in this thread! Member? You member Yea the one that followed me home! She's getting some love, hgs and timing crapola while my lovely swapped 86, 85 xt, camaro and bel air (family project, but I've F'n BEEN ready!) Lol! Luckily it snowed lately and I've not much better to do I was trying to match my bros arty bmw s52 swap pic since i was slacking this was at the same time as the ej22 swap into my red gl. The art was done by an old friend. The turbo is a spare for my xt but period correct I guess, vf4 Ideally I would like to put the xts ea82t into the 88 gl and put an ej22 in my xt

Ummm....no Just kidding yea CL I just select all surrounding areas from Denver but albequrque, Santa fe/taos, Farmington and salt lake city is a good spot, but Nebraska and Kansas has a lot of cool stuff. Hitch a car dolly to...um...see why your car needs a name? Ask your mom, girlfriend or baby momma momma or whatever to name her! But sube demand tends to be low, warm climate and dry people like trucks for off road cause it's all brute force, not much finesse or grace is required like mountain off roading, where a little gl can and has destroyed a lifted diesel f250 and made it miles farther. I helped him dig out of the snow, took 3 hours That's why CO and WA are Subaru havens, I need to bring my gl to WA. I have never been and have a friend I haven't seen in 16 years lives there.

@Giles That rust is quite minimal. The holes are tiny, I think that cover is one little flaw in a real life video game alien car. The xt has only two flares in the front and is still beautiful! Lol I just reread this thread and realized that you might not have seen my xt my friend! Her name is ghost, have you named yours?

Haha! You guys are awesome! I should stop buying or sell something, but @Scoby4wd have you looked into the 4 corners area? I hope we don't create another monster here @el_freddo! And by the way I've posted pics of my camaro here, the more the merrier I think! And the new guys won't have to search the pics forum lol! There are lots of old subes and bmws mostly rust free, and dirt cheap. I have recently seen a couple of two door hatches, and a wagon that I would take quick. Also an e28 and 633c. The local sube market here is odd, but the college kid who worked his way through school will sell his GL or first gen leggo for $500 to buy a wrx to be like his friend whose parents paid for school. Cheap brats too. I almost got an 88 for $800 last summer! Then on the other side of the coin are the hippie ladies who think their 250,000 mile loyale is worth $2500 cause it's clean...and probably get $2000! But man in boulder there are tons of Subarus, almost every other car seems like at times! In the junkyards here it is a phase one ej feast, but i sh!t you not, there are more Porsches than L body subarus. I'll say this, the ej swapped L body is a beast at stoplight to stoplight racing

Wow @Giles !!! She is a true beauty! That is one of the cleanest xts I have seen as far as starting a resto project...i am drooling at that rhd model!!! No digidash?!? Bro! Don't worry dude you will find one. But you have the ALWAYS missing front square emblem!! That is one thing that can't be found. I'm jealous. Do you have the rear spoiler and luggage pieces? I have the luggage pieces somewhere that I don't think I'll be reinstalling...lemme know if you want or need them, I'm not coming off that spoiler tho! Anyway I'll cut you a deal, mate. Since my xt is also the factory light blue if I can restore mine as nice as yours, how about we take our xts (with our hot turbo ej engines, front posis, and low settings on our coilovers) to Japan for an epic road trip...we'll have our boys send our ea82t engines and air suspension to Japan in crates so we can win best of show there, and all the autocross events on the way. We'll roshambeau for it if a disagreement comes up, but i want to display my ej on a stand and the ea82t in the engine bay, but the other should be vice versa. Then when it's time to go home I'll take the rhd back to CO and you take the lhd one back to Wales... Five years time? We can start the documentary now. Bushings for the gl should work, right? They're the same suspension basically. And standard 80 or 85 weight gear oil is what I use in the rear. No problems for me in that regard.