Due to lots of questions and such lately about my car, I've decided to start a semi-"official" thread about lifting Imprezas. For the purposes of this thread, I will presume everyone knows how to install everything without instruction.
NOTE: This thread will remain incomplete pending more information by other members.
Struts:
The basic principle behind Impreza lifting is that as it turns out, Forester struts are aprox. 2" longer between the spring perch and hub mount, providing an instant 2" ride-height lift. These struts ALSO allow for taller tires by providing more clearance between the hub and spring perch. Late 90's Outback struts may also provide lift in this manner (need more information).
Forester struts come in various varieties, and there are aftermarket options too.
Forester XT struts are stiffer than the non-turbo varieties.
KYB offers GR-2 Forester struts, which are also stiffer.
There are also JDM "STI" struts which offer more stiffness, although will cost more.
Comparison photos:
Strut Top Spacers/strut lifts:
Several companies currently offer strut top spacers (Paranoid Fabrications, Subtle Solutions, Jackson Rally). Anything over 3/8" WILL require new strut top bolts in order for enough thread to fit through the spacer.
This is also a way of performing a strut-lift without changing struts... HOWEVER, taller tires will still not clear the spring perch on Impreza's due to clearance issues.
Vendors who carry strut top spacers/lifts:
Paranoid Fabrications
Subtle Solutions
Jackson Rally
Strut Top Mounts:
Front
top mounts are the same on all model year Imprezas and Foresters, so front suspensions can be installed without changing tophats. Group-N tophats are available of course for extra stiffness if so desired.
Rear
top hats are an issue for 93-01 Imprezas (02-07 Imprezas match up with 03-08 Foresters)
There are two options:
1) Install your stock 93-01 Impreza rear top hats onto the Forester struts. This MAY require some sort of washer/spacer between the top hat and strut (more information required)
2) Keep the Forester top hats, drill a new 3rd hole into your chassis to fit those mounts. This has a couple of issues, including the fact the center of the top hat runs into the strut top hole as they don't match up, and the Forester top hats DO increase the ride height in the rear some more. (I corrected this with a 1/4" spacer in the rear, and a 3/8" spacer up front)
Photo of a 93-01 re-drilled to fit the 03-08 Forester tophat:
Springs:
Forester springs provide MORE lift over just using Forester shocks, because if you use WRX/STI/etc. springs on a stock Forester, it lowers it quite a bit. Various Foresters have different spring rates (more info required).
If you want even MORE lift, King Springs makes lift springs for various Subaru models including Foresters.
If you don't wish to do more than 2-3" of lift and wish to maintain good handling, use WRX or STI springs in order to reduce the amount of lift (Aftermarket springs are also an option).
Rear spring comparison: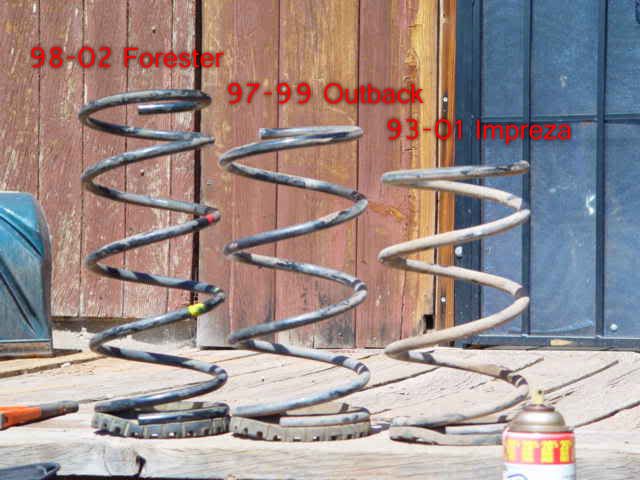 Tires:
Taller tires can also provide more lift to your vehicle.
Forester-height tires (IE 215/60/16) can work with a lifted Impreza, but for more radical tire sizes with off-road tread patterns there are other options such as Grabber AT2's (215/75/15 or 215/65/16) and Superswampers.
NOTE: Larger tires can and probably will cause issues with fender clearance. Major modification of fender liners, rolling of fenders, and even trimming of bumpers MAY be required depending on the tires you select, so be warned.
Photo of larger diameter tires: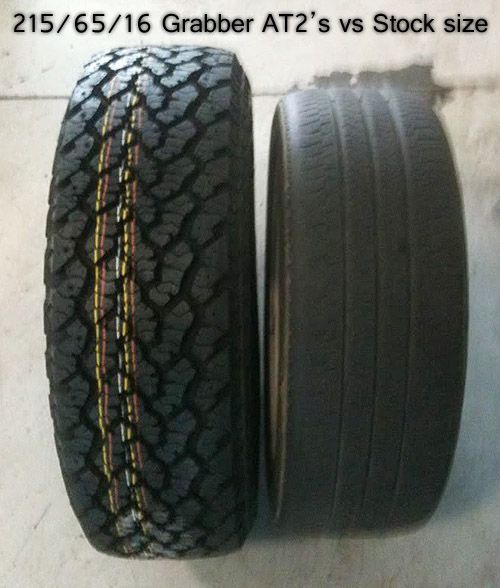 Trailing Arm Brackets
- When performing a lift, the rear trailing arms start to pull the rear tires closer towards the front of the rear fender wells, as well as causing issues with suspension geometry. To fix this, trailing arm brackets that "move" the pivot point are required.
97-99 Outback trailing arm brackets have a pivot mount that is over 1" lower than an Impreza bracket, which will correct the geometry and keep the tire farther away from the fender.
Forester brackets have pivot points that are farther rearward, and move the tire away from the fender, but don't provide as much geometry correction.
Adjustable length trailing arms can also partially solve the trailing arm issue (See: Cusco and OBX trailing arms) but should probably also be used with Outback brackets.
"Spacers" for the trailing arm bracket. Some people have made custom spacers that lower the trailing arm down, which can be especially useful for cars with quite a bit of suspension lift and need more than the stock brackets can provide.
Note: I can't confirm this yet, but apparently some trailing arm brackets from various Impreza and Forester model years have DIFFERENT bolt patterns, I need more information on this.
Photo of Outback vs. Forester trailing arm mounts:
Swaybars:
When performing a lift, Swaybars become an issue because you are increasing the distance between the swaybar and where the suspension rests at. The EASY solution is to remove the swaybars all together, but at the expense of on-road and higher speed handling.
Rear Swaybar
- 97-99 Outbacks have rear swaybar brackets that sit about 2" lower than stock Impreza brackets, which in turn lowers the swaybar to correct for added lift. Forester brackets may also be compatible (need more information).
Front Swaybar
- The front swaybar is enclosed by the subframe, so there is no easy way of lowering the swaybar. HOWEVER, longer endlinks will also solve the problem. I recommend running Kartboy STI
rear
endlinks on the front, since they are longer than stock front endlinks (contact Kartboy for more information, if you have a stock non-sti front control arms, the endlinks may require a different bushing).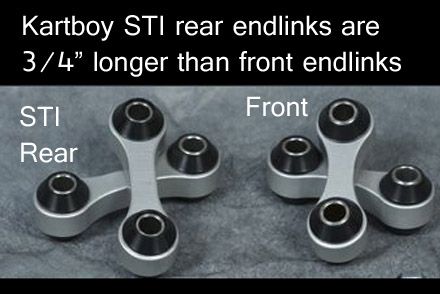 Other "required" parts:
Rear Camber bolts
- These are important because without them, you can't properly align the rear suspension when lifted.
Body Lift, IE body spacers: (possibly required depending on the amount of lift you are doing)
Outbacks and Foresters over the years have used spacers between their subframes and chassis in order to lower the drivetrain to correct for CV angles.
IF you are doing a lift of several inches, this may be required to prevent your CV's from constantly dying.
There are several items required: Front subframe spacers, Rear subframe spacers, Rear differential support spacers and brackets and bolts, corresponding transmission cross members (MT or AT depending on your application), pitch rod, transverse link bushings, and longer steering joint.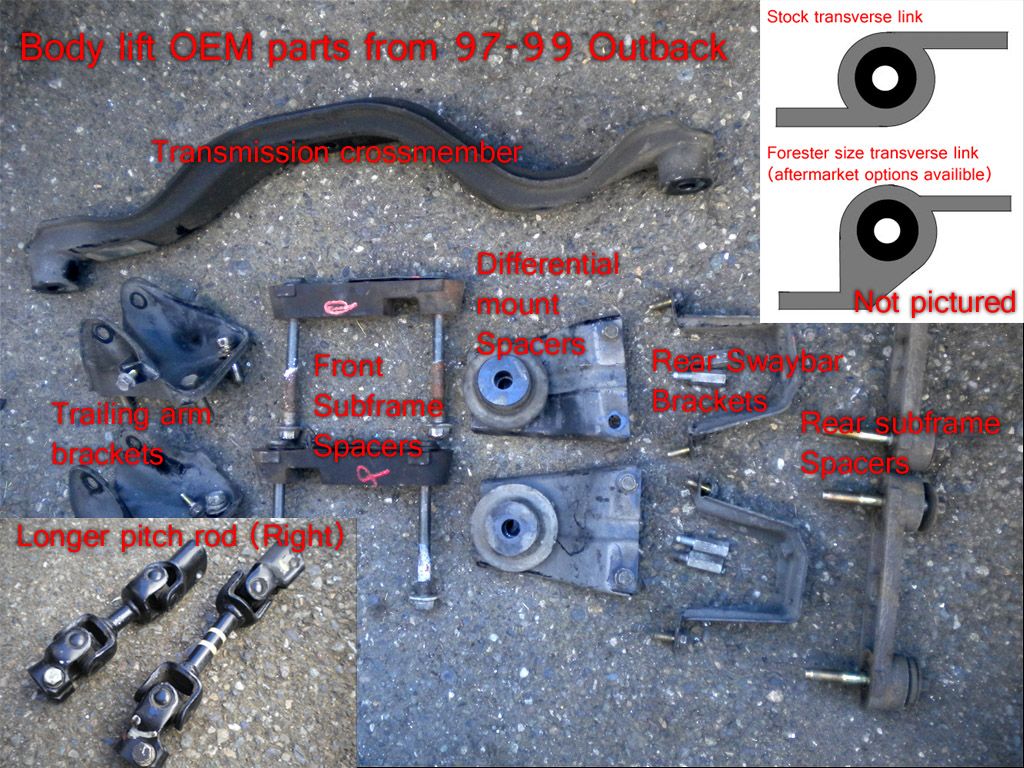 This can also be accomplished via custom work of course, which some people have done.
Optional parts:
Adjustable rear lateral links
- These can help with the rear alignment, along with lock bolts, for off-roading purposes. They can also increase the rear track width if so desired.
WRX sedan/STI front control arms
- These can increase the track width, which can help with fitting taller tires.
Adjustable rear trailing arms
- Can help move the rear tire toward the center of the wheel well when lifted.
Aftermarket subframes
- These are starting to show up, and may provide lower mounting points to help with lifts, and perhaps lower drivetrain components as well like a body lift.
NOTE: More to be added soon...
Also, if anyone wants to be credited for the use of there photos, please PM me personally so I can take the necessary steps to do so.
Edited by Kostamojen, 13 April 2011 - 10:40 PM.